Ruijie Switches Product:
Switches Product Overview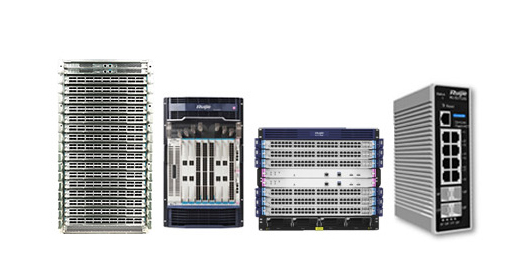 Ruijie Networks, as one of the earliest switch suppliers in China, has orchestrated multiple full-featured switch series for data center network and campus network. Currently, Ruijie switches have been widely adopted across various sectors including Internet, finance, network operator, government, education, enterprises, healthcare, etc.
Given the rapid development and intense evolution of the Internet world, simplicity, high efficiency and high scalability are key to the optimal user experience of network infrastructure. Gaining momentum from this user demand, Ruijie is dedicated to upgrade the informatization services from being "usable, manageable and controllable" to "ease of use, manage and control". In 2013, Ruijie, to comply with the user demand for simplicity and smooth connectivity, pushed the frontier with the Network Simplicity Solution to enable the users to smartly manage the entire network with just a "single" switch. Since then, Ruijie, driven by the passion in innovation, has managed to implement the Network Simplicity Solution for thousands of networks in various scenarios, including wireless city, large-scale campus network, citywide subway, etc. Powered by the patented industry-leading RG-N18000 Switch Series, the simplistic networks serve millions of users every day.
RG-S8600E Cloud Network Core Switch Series

Ruijie RG-S8600E Switch Series is industry leading in supporting cloud data center with a broad spectrum of specialized campus network features. The RG-S8600E Series achieves cloud network integration, virtualization, and flexible deployment to fulfill the evolving next-gen cloud architecture requirements.
RG-IS2706G Industrial Ethernet Switch Series

The Ruijie RG-IS2700G Series is a range of rugged and compact industrial Ethernet switches designed to power various industrial applications. The RG-IS2706G switches offer abundant routing, switching and security protocols and advanced features including vibration resistance, wide temperature range, dust proof, and lightning arrester to cope with harsh operating environments. Ethernet Ring Protection Switching (ERPS) is another highlight to improve network flexibility, resiliency and security. T